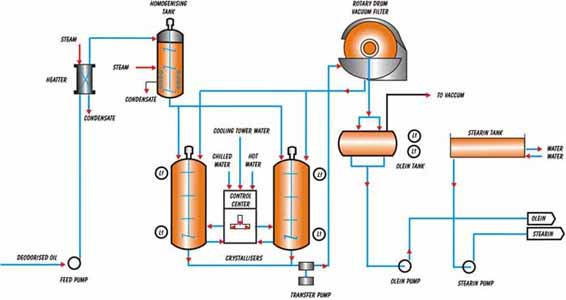 Main Features & Advantages of Dry Fractionation
Combines all operations, and monitors from a fully automated centralized control station.
Easy to operate, requires minimum supervision.Good flexibility. Wide range of process applications possible.
Feedstock can be crude, semi refined or fully refined palm oil.
Suitable for both single or double fractionation.
Minimum operating costs:
– Low consumption of utilities.
– Low maintenance costs.
– No oil losses.
– No pollution problems.
Product quality.
– Good crystallization repeatability to yield consistent product quality.
– High olein yields.
– Low olein cloud point, with improved low temperature stability; cloud point as low as 2 °C with an iodine value of 65.0 possible.