Palm oil accounts for 35% of the world's vegetable oil market and there's a very good reason why.
Efficiency
Harvested all year round, oil palm trees produce on average 10 tonnes of fruit per hectare – far more than soya, rapeseed and sunflower crops.
This means oil palm requires 10 times less land than the other three major oil producing crops, soya, rapeseed and sunflower . In addition to the 3.74 tonnes of palm oil per hectare, 0.4 tonnes of palm kernel oil and 0.4 tonnes of palm kernel expeller / cake are also produced from the fresh fruit bunches or FFB.
Palm kernel expeller is used extensively in the energy and animal feed sector. Palm kernel oil is a widely used ingredient in the personal care market.
Versatility
Palm oil demand continues to grow because it is the most versatile of all vegetable oils. This is because palm, palm kernel oil can be processed to form a wide range of products with different melting points, consistencies and characteristics.
Feeding a global population
In November 2011 the global population reached 7 billion and by 2050 it is expected to increase by 2 – 3 billion. Since oil palm is the most efficient oil crop available, it is a crucial commodity when it comes to feeding the growing number of people on our planet. The importance of palm oil becomes clear when we consider that many people in the developing world rely on it as a cheap and available cooking medium.
Top 10 palm oil consuming nations 2015
A total of 61 million tonnes of palm oil was consumed in 2015. The top 10 consuming nations accounted for 41.2 million tonnes, 68% of global consumption.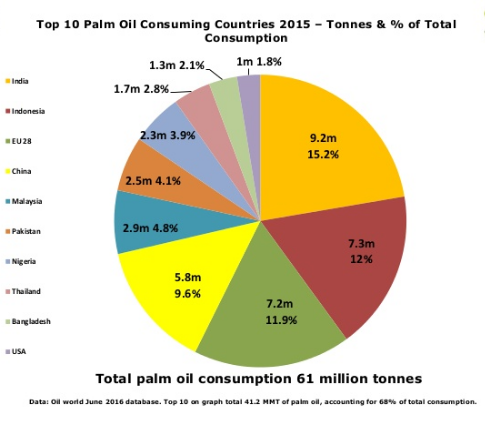 1.    India: 9.2 million tonnes
2.    Indonesia: 7.3 million tonnes
3.    EU 28:  7.2 million tonnes
  4.    China:  5.8 million tonnes
5.    Malaysia: 2.9 million tonnes
6.    Pakistan:  2.5 million tonnes
7.    Nigeria:  2.3 million tonnes
8.    Thailand: 1.7 million tonnes
9.    Bangladesh: 1.3 million tonnes
10.  USA:  1 million tonnes

Providing livelihoods
Many people rely on palm oil for their livelihoods. Oil palm smallholders are some of the poorest farmers in the world. The money they earn from growing oil palm trees is crucial to feed and care for their families.
Supporting economies
Farming and producing palm oil form the backbone for many communities and, indeed, countries. Palm oil accounts for 11% of Indonesia's export earnings, with one third of this production attributed to smallholder farmers.