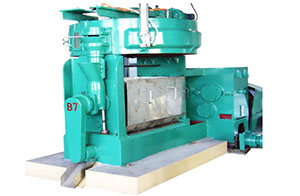 LYZX18 low-temperature press is a first generation low-temperature screw expeller which is jointly developed by us and Wuhan polytechnic University, special good for the low-temperature processing of various kinds of vegetable oil-bearing crops. The highlights are low pressing temperature, high oil get rate, low residual oil content in cake, light color, high quality and nutrition of oil, which totally fulfill the national standards.
It's can be used for the pressing of husked rapeseed, peanut kernel, soybean, olive, walnut kernel, maize germ, rice bran, teaseed, sallow thron seed, chinaberry seed, rubber seed, china pepper seed, tomato seed, water melon seed, grape seed, flax seed, oenothera seed, pepper seed, castor seed, orange seed, cocoa bean, coffee bean, perilla, almond kernel, peach seed kernel, etc.
Features
1. The pressing oil is with bright color, high nutrition, by mechanical sedimentation and filtering, natural oil is gained, no need for refining and refining loss.
2. The protein of cake is low level damaged, help to fully use of vegetable protein.
3. Low-temperature(approx. 50℃) so the steam is significantly saved.
4. In the pressing process the meal hasn't contacted with any solvent, acid, alkali, bleaching earth or chemical additive. so there is little oil and cake nutrition and trace element loss, the cake protein is preserved.
Technology Data
1. Production Capacity: 6-12 T/D( low-temperature pressing of peanut kernel)
2. Oil content in cake: 4-8%
3. Feeding temperature: approx. 50℃
4. Total motor power: (22+4+3)KW
5. Net weight: 3500KG
6. Dimension: 3176×1850×2600 mm