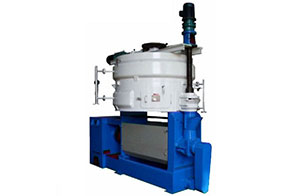 Prepress expeller YZY240 is a continuous screw expeller, which is applicable for prepress-extraction process or twice press process of vegetable oil plant, can be used to press oil-bearing crops such as peanut kernel, cottonseed kernel, rapeseed and sunflower seed kernel, etc.
Features
Prepress expeller YZY240 is specially designed for prepress. With appropriate pretreatment situation, it has below highlights:
1. Wide applications, can be used both for prepress and fullpress
2. Big process capacity, so relatively workshop floor area and power consumption, operation, management and maintenance work decrease.
3. The pressed cake is of loose structure, help the permeation of solvent.
4. The oil and water content of cake help the extraction of solvent.
5. The quality of prepress oil is better than that of fullpress and direct extraction.
6. Steel gearbox with high strength.
Technical Data
1. Capacity: Cottonseed 110-120T/D, Rapeseed 75-85T/D
2. Residual Oil Content: 13-15%(Under common preparation situation)
3. Motor Power: 45+15Kw
4. Net Weight: approx. 6800Kg
5. Dimension: 4178×2870×3660mm