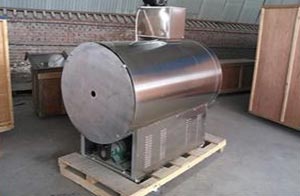 Feature of roaster machine:
1.Environmental protection:Adopt imported from far infrared heating tube,Life for 3 to 5 years,Efficient and durable,For the working environment carbon emissions is zero.
2.low consumption:Double roller design,Ensure materials can even baked Fried,protect the heat don't scatter outward.
3.Thermal efficiency can up to above 95%,than traditional electric heating equipment power saving more than 45%.
3.High efficiency:Employ multi-position independent electrical heating ring,starting up 15 minutes can be up to above 200 ℃,Many years of practice estimates that fry 5KG original melon seeds will consume 0.6 KWH,fry 5KG sesame will consume 0.55 KWH.fry 5KG tartary buckwheat will consume 0.4KWH,fry 5KG Peeling sesame will consume 0.15 KWH.fry 5KG rapeseed will consume 0.25 KWH.
Application Fields of roaster machine:
Leisure industry:such as original melon seeds, peanuts, cashew, almond, chestnuts, walnuts and peeling sesame baked Fried dry cargo.
oil press industry:cooking sesame, rapeseed, soybean, peanut, flax seed before oil squeezing.
The tea industry:editing, drying, bitter buckwheat tea industry.
Traditional Chinese medicine (TCM) baked fried condiment industry, fry pepper,Chinese prickly ash, star anise, fennel powder, etc.
Chemical industry:Dry chemical raw materials,Geothermal dehumidifying tobacco processing,Tobacco drying,Making tobacco processing and feed processing industry.
Animal husbandry and feed dry.
Polish coarse grain processing industry,Baked Fried corn, sorghum, wheat, barley, rice, bitter buckwheat, highland barley powder, etc.