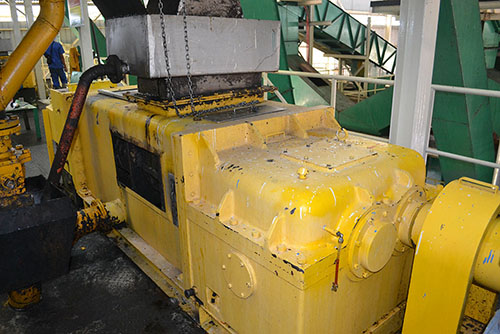 Because of cooking, sterilizing, threshing and mashing made the pulp soft and damage pulp cell structure, the palm pulp becomes soft and cell is broken. Then it is sent to continuous screw press. After pressing, oil palm fruit is divided into two parts: the mixture of oil, water and solid impurities, and the press cake (fiber and nut).The pulp stone separation obtained CPO and stone, press machine adopts the double screw helix continuous discharge and hydraulic, greatly improving production efficiency.
Palm Oil press station: Separate palm fruit and kernel, and oil press machine can obtain CPO (crude palm oil) and palm kernel. The adoption of double screw and hydraulic oil press machine can greatly improving working efficiency during palm oil production.
Process flow of palm oil pressing processing line:
Palm fruits through elevator and conveyors, enters into upper steaming boiler of oil press machine.
Stirring and heating with steam to destroy the emulsified state forming from oil and water, wherein the coagulation protein denaturation and to reduce the viscosity of the oil for further convenience of palm oil pressing process.
Digesting temperature keeps at 95-100℃ about 20 minutes.
Palm fruit after digesting enters into screw oil expeller for palm oil pressing.
The equipment list of pressing station:
1.Fruit Elevator
2.Digester Feed Conveyor
3.Digester Feed Conveyor
4.Fruit Recycle Conveyor
5.Digester 3000 Litter
6.Screw Press P10
7.Crude Oil Gutter
8.Sand Trap Tank
9.Vibrating Screen
10.Vibrating Screen Steel Structure Platform
11.Crude Oil Tank No.1
12.Hot Water Tank
13.Press Structure&Platform