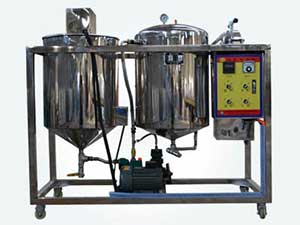 500 oil refinery manufacturer Characteristics:
This units belongs to intermittent refining oil equipment, has all functions of large, small scale intermittent refining equipment, and better than them. This equipment can produce high-cooking oil or salad oil. This units complete set combined, self-prepare heat source, gas source, elect-rics control.
Light weight, save electricity , convenient use, this machine do not need special basis, either indoor or outdoor is OK, just need to make up power source, water, prepare coal, alkali, Pacid, active clay, edible salt and other consume materials.
500 oil refinery manufacturer Units devices:
(1).Refining pot: used to P-acid de-gumming, alkali refining de-acid and water rinsing.
(2).De-color pot: used to remove off pigments, bleaching oils and grease de-hydrate.
(3).De-odor pot: used to remove off oils odor, foreign smells (stainless made)
Heat-transfer oil stove: supply each device production needing heat energy, temperature reach above 280°C.
(4).Steam generator: produce the needing steam for de-odoring and distillation.
(5).Vacuum pump: supply needing vacuum for dehydrate, de-color, de-odor. Vacuum degree can reach above 755mmHg.
(6).Press filter: filter clay, filter out clear oil.
(7).Air compressor: blow dry bleached clay, blow empty the leftover oil in the press filter.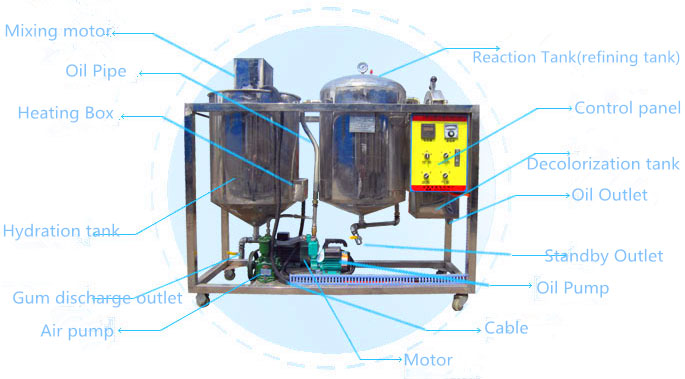 Oil refinery manufacturer Parameters:
| | |
| --- | --- |
| Steam consumption | 450KG/T oil |
| Electric consumption | 28Kwh/T oil |
| Phosphoric acid | 2~3 kg/T oil |
| Circulating water cooling water yield | 150m³/H |
| Bleaching earth consumption | 5~50Kg/T oil |
| Waste bleaching earth oil content | <35% |
| Deodorization loss consumption | ≤0.5% |